IT'S THAT TIME OF YEAR AGAIN – ARNO NEEDS LAUNDRY ANGELS!
KELLY LIKES HER CLEAN BLANKETS!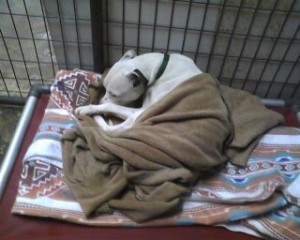 A laundry angel is someone that comes and picks up a bag or two of laundry from us and washes it offsite and then returns it to us. When the weather gets cooler, we go through a lot of blankets and our washing machine cannot keep up with the number of loads we must wash to make sure all of our babies get their own blankets each night. Before you ask – our shelter only has the space and hook ups for one washing machine and two dryers, so adding a new machine is not possible. WE NEED YOU! This is a great way to help our pups out! IT'S EASY – just stop by our shelter – 271 Plauche Street, Harahan, LA 70123 – any day between 9a-9p and tell the lead volunteer on duty that you are picking up laundry. Wash it and return when you can. PLEASE SHARE AND HELP IF YOU CAN SO WE CAN KEEP OUR BABIES WARM THIS WINTER!